7TH INTERNATIONAL CONFERENCE ON ENERGY, SUSTAINABILITY AND CLIMATE CHANGE
ESCC 2020 took place at Cultural Centre in Bourtzi., Skiathos Island, Greece, on August 24-27, 2020, under the auspices of the University of Florida (UF)-USA, the University of Thessaly (UTH)-Greece, the Rutgers University, the Cyprus University of Technology and the BRNO University of Technology
The book of Abstracts is available HERE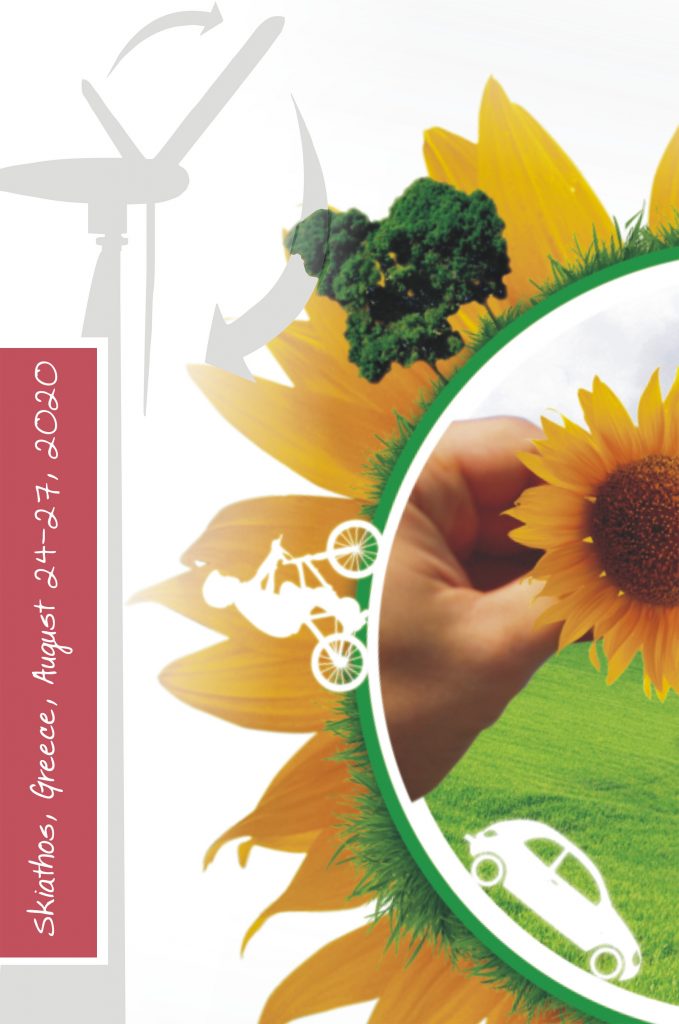 HERE IS THE PROGRAMME OF THE CONFERENCE AND SOME OF THE PRESENTATIONS THAT ARE AVAILABLE ONLINE
Monday, 24 August 2020
Plenary Talk
Professor Dr. Gülgün Kayakutlu
The Importance of Micro Grids during the Pandemic of COVID-19
Session 1: Energy & Environment I
(1) V. Turek, T. Létal, Z. Jegla, M. Hájek, L. Mazánek, R. Nantl & M. Krňávek – Fast, Approximate Analyses of Heat Transfer and Fluid Flow using Finite Element Analysis.
(2) Z. Jegla, V. Turek, T. Létal, J. Šikula, L. Korček, P. Gabriel & J. Horsák – Opportunities and Challenges in the Development of Modern Integrated Equipment for Waste-To-Energy Units.
(3) T. Létal, P. Lošák, V. Turek, Z. Jegla, M. Strakoš, O. Machola & V. Ucekaj – Challenges in Bolted Flange Connectin Performance Evaluation.
(4) M. Vondra – Thermal Thickening of Waste Water from Biogas Plants: Current State and Perspectives.
Plenary talk
Dr. Martin Pavlas
The Role of Waste-to-Energy within the Circular Economy Concept – Recent Advances in Simulation and Optimization Approach
Session 2: Energy & Environment II
(1) O. Němček & S. Honus – Restoration of the Soil and Recirculation of Agricultural Waste in the Place of its Origin via Torrefaction.
(2) Ch. Matsouka, A. Evdou, V. Zaspalis & L. Nalbandian – CO2 Capture through Chemical Looping Processes using Perovskites as Oxygen Carriers.
(3) G. Kalantzis & G. Saharidis – Air Quality Monitoring.
(4) L.S. Kyrgiakos, Ch. Kleisiari & G. Vlontzos – Leguminous Crops Inputs Use Efficiency under Climate Change Index.
Session 3: Decision Making – Operational Research
(1) F.D. Mexis, A. Papapostolou, Ch. Karakosta & J. Psarras – Benchmarking Energy Efficiency Projects: A Multicriteria Approach.
(2) E. Barri, Ch. Bouras, Ap. Gkamas, G. Kournetas & N. Karacapilidis – A Novel Approach for Handling Diverse Energy Consumption Issues in Large Passenger and Cruise Ships.
(3) B. Cankilic, G. Ozturk, M.B. Yurtseven, G. Kayakutlu & I. Duzdar Argun – Wind Speed Forecasting using Multi-Linear and Support Vector Regressors.
(4) Ath. Baronou & Od. Manoliadis – 3D Printing Sustainability Issues, The case of Multi Mailboxes Production.
(5) G. Kayakutlu, K. Yavuz, M. O. Kayalıca & I. Duzdar Argun – Optimization of Electricity Consumption Cost with Battery System in Turkey: Case of Ikitelli Industrial Zone.
(6) J. Pluskal – Circular Economy in Waste Management: Network Flow Problem and Recycling Dilemma.
Plenary Talk
Professor Dr. Panos Pardalos
Optimization in Electric Power Distribution Systems
Tuesday, 25 August 2020
Plenary Talk
Associate Professor Dr. Vítězslav Máša
The Best Way to Improve the Energy Efficiency of a Small or Medium Industrial Enterprise
Session 4: Energy, Sustainability and Climate Change I
(1) J. Liu & X. Hou – Research οn Sustainable Use οf Cultivated Land Based οn Improved Three-Dimensional Ecological Footprint Model.
(2) X. Hou & J. Liu – Spatial-Temporal Analysis of Driving Factors of Cultivated Land Use in China from 2000 to 2018 Based on GWR Model L.
(3) Q. Zhang, J. Chen, J. Zhu, Y. Cao, X. Jia, X. Kong & X. Zhao – The Research on the Optimization of Biogas Production by Anaerobic Fermentation of Mixed Raw Materials.
(4) S. Deligiannis, E. Koutsi, G. Athanasiadou, D. Zarbouti & G. Tsoulos – Forecasting Electric Energy Demand for V2G and G2V Systems Under Different Charging Profiles.
(5) N. Alamanis & P. Dakoulas – Influence of Spatial Variability of Soil Properties on the Behaviour of Underground Energy Pipelines under Permanent Displacement.
Session 5: Energy Efficiency
(1) P. Christodoulides, L. Aresti, V. Messaritis, G. Panayiotou, G. Bianchi & G. Florides – Waste Heat Recovery Technologies: Recommendations on how to Overcome Barriers to their Adoption.
(2) F.D. Mexis, A. Papapostolou, Ch. Karakosta & H. Doukas – Fostering Energy Efficiency Investments at an Early Stage: A Standardized Toolbox.
(3) I. Duzdar Argun, E. Deliaslan, G. Kayakutlu, M.O. Kayalıca – Industry 4.0 Impact of Sustainable Energy Management in Manufacturing Industry in Turkey.
(4) M. Touš, V. Máša & S.Y. Teng – Data-driven Energy Efficiency Improvement in Industry 4.0.
(5) S. Kousouris & K. Tsatsakis – A BIM-Based Toolkit towards Enhancing Energy Efficiency in Building Renovation Activities.
Session 6: Operational Research – Mathematical Programming
(1) O. Pichugina, P. Stetsyuk, O. Butkevych & O. Lykhovyd – Quadratic and Linear ED Problems and their AMPL Implementations.
(2) A. Bouabid, A. Sleptchenko, M. Ali, G. Ospina-Aldana & S. Sgouridis – Integration of Renewable Energy in Key Industrial Sectors for UAE: Case of Aluminum.
(3) A. Fragkogios, P. Broukos, N. Shah & G. Saharidis – A Linearized Mathematical Formulation for the Waste Water Treatment Network Design.
(4) Z. Moza & G. Saharidis – GreenYourRoute – Vehicle Routing Problem: Modeling & Solution Approach.
(5) P. Karafotis & P. Georgilakis – A Multi-Objective Optimization Model for Reliability-Based Network Reconfiguration.
(6) M.U. Aslan, G. Kayakutlu, M.O. Kayalica & I. Duzdar Argun – Load Forecasting using Long Short Term Memory (LSTM) Method.
Plenary Talk
Professor Dr. Mohsen Jafari & Associate Professor Dr. Esmat Zaidan
Planning for Smart Cities – Overcoming Social and Technical Challenges
Wednesday, 26 August 2020
Session 7: Energy, Sustainability and Climate Change II
(1) Ath. Basdanis, Al. Tsimpoukis & D. Valougeorgis – Effect of Constant and Dynamically Adjusted Half-Cycle Times on the Performance of Solar Dual-Bed Adsorption Cooling Systems.
(2) L. Aresti, P. Christodoulides, Ch. Makarounas, L. Lazaris & G. Florides – Computational Investigation of Dwellings' Foundations as a GHE in Mediterranean Climate.
(3) Ar. Anagnostopoulos, Y. Grosu, M.H. Navarro, Y. Ding & A. Faik – A Simple Method for the Inhibition of the Corrosion of Inconel 625 by Molten Chloride Salt for Next Generation Concentrating Solar Power Applications.
(4) B. Gokce, H. Demirtas, G. Kayakutlu & M.O. Kayalica – Short Term Balancing Power Market Trend Prediction using Machine Learning Models.
(5) S.Y Teng, W.D. Leong, M. Vondra, M. Touš, H.L. Lam & V. Máša – Adaptive, Lean and Green Manufacturing: Implementations and Applications in Energy-Intensive Industries 4.0.
Session 8: Decision Support Systems – Multi Criteria Analysis
(1) V. Nevrlý – Complex Assessment of Waste Collection Planning: Pre-processing, Heuristics and Implementation of Routing Problem.
(2) D. Tselios, G. Papageorgiou, N. Alamanis & P. Ipsilandis – Energy Project Portfolio Selection and Scheduling using Financial Criteria.
(3) E. Paschalis, G. Papageorgiou, N. Alamanis, D. Tselios, D. Zahos & N. Xafoulis – Assessment of Methodologies for Estimating Seismic Displacement of Slopes with Underground Energy Pipelines.
(4) I.A. Gul & M.O. Kayalıca – RES Investment Risks: Assessment Using System Dynamics Approach.
(5) G. Bakalis, D. Zahos, K. Bakalis, N. Alamanis, G. Papageorgiou & S. Kotsopoulos – Comparative Study for Selecting Self-Supporting Pile Retaining Wall, in Energy Duct Passages, with Vertical Excavation Front.
Session 9: Energy, Sustainability and Climate Change III
(1) K. Ampountolas – The Free-Floating Bike Share Rebalancing Problem.
(2) G. Kozanidis & E. Kostarelou – An Exact Cutting Plane Bilevel Programming Solution Algorithm for Optimal Price-Bidding of Energy Producers in Electricity Markets.
(3) D. Pandelis – Mitigating Supply Risk with Flexible Backup Suppliers.
(4) C. Zhang & K. Ampountolas – Pay-as-you-go Road Pricing and Charging over VANETs.
(5) G. Saharidis – Benders Decomposition and Acceleration Methods.